About Anne Marshall
In the fall and spring, you can often find me painting in the gardens at Historic Oatlands and along the banks of Goose Creek and the Shenandoah River.
During the winter months, I find great happiness painting countless hours in my Leesburg Home Studio.
In addition to my local works, I am frequently inspired to travel and paint scenes from Wyoming, Montana, Idaho, Arizona, Utah, and iconic parks such as the Grand Canyon, Monument Valley, Yellowstone and Red Rock Canyon.
My travels include Greece, Italy, the UK, and Costa Rica, where I photographed and painted en plein air. I have even ventured to South Africa and Zambia on safari to paint the magnificent animals and rustic landscape, which has further diversified my collection.
I am formally trained as a nurse and hold a B.S.N. from the University of Virginia and a M.S.N .from the Medical College of Virginia. I enjoy swimming, biking, sailing, hiking and traveling- and, of course, painting!
I honed my craft through many years of training with the Loudoun art community and continue to work with Penny Hauffe. Contact Anne: Contact page.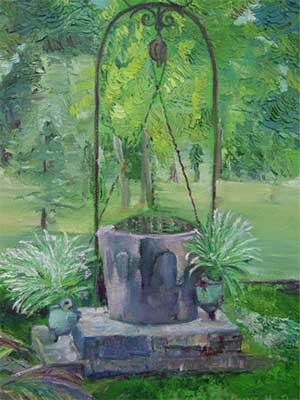 Interview in Elan Magazine
October 2018
Click to enlarge page images: