A portion of sales will be donated to the Wounded Warrior Project and the American Red Cross.
Welcome to Anne Marshall Painting
The tranquility & aesthetic beauty of Loudoun, and surrounding areas, help serve as my inspiration to paint.
I am always ready to capture my biking, hiking and sailing adventures on canvas.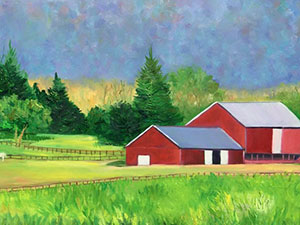 My lifelong love of the outdoors fostered a budding interest in an art career. After my first class with artist Dodie Petro, and after many years of study with Penny Hauffe, my passion for art has grown. The tranquility and aesthetic beauty of Loudoun and its surrounding counties serve as my first inspirations for many of my landscapes.
In fall and spring, you can often find me painting in the gardens of historic Oatlands, just outside of Leesburg, Virginia. Painting is relaxing and the best way for me to put on canvas what my senses perceive. During the winter months, I spend many happy hours painting in my Leesburg home studio. Read more…